If you want to get out of your daily routine, shed your daily burden, meet your inner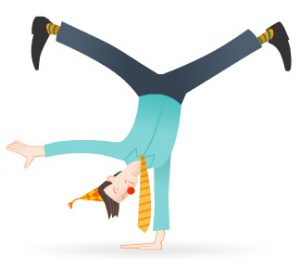 child, and along with him to embark on a journey of learning, wrapped with constant laughter and enjoyment, the "Inner Clown" workshop is the place for you.
This unique workshop is designed to teach you how to use comedic language in your daily work environment, to direct you to find the key to your creativity, and help to you shake off the daily routine. All are achieved in a liberating and bonding experience.
In the workshop, participants gradually take off the serious expression and replace it with a primal feeling, releasing from conventions, and connecting to an authentic feeling of moving naivety. The workshop demonstrates how a person without self-criticism becomes an environmental magnet, free, creative and authentic.
The workshop's practice includes playing with mistakes, verbal exercises, body language exercises, learning the "16th solution", group tasks and working on the essence of comic thinking. The discussion, in all its various forms, is supported by scientific quotations and research.
"Clowning" brings three insights to the surface that offer tools for applying the clownish way of thinking in everyday situations and for developing the abilities that are learned over time:
Up close – tragedy, from a distance – comedy.
Shake the dust at least once a day (jabber, move funny, find your inner melody).
The 16th solution – your key to creativity.